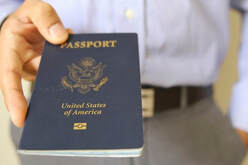 Missionaries are at risk for having their passports revoked for failing to file their taxes.

The IRS and the State Department are increasing their enforcement of the FAST Act which was signed into law back in 2015. The act included a provision for the IRS to share information with the State Department allowing the State Department to deny new passport applications or revoke existing passports when someone owes more than $50,000.

You may think that there is no way that would ever owe that much in taxes, but the number is not hard to hit even for low-income missionaries. As missionaries many of us sell our homes, travel around the USA raising funds and changing addresses. Then we move overseas and dive into ministry. Taxes are not on our minds and when the thought finally comes to mind, we talk to other missionaries who erroneously say that because we live overseas that we don't need to file. So a few years pass and it is finally time to go back to the USA to visit family and report back to our supporters and churches. Excitement is high and then suddenly everything changes when our passport is taken from us and we have no way to return to our ministry and a huge unexpected tax bill.

How could this happen? First by moving, and selling our homes, we do not update the IRS with a new address. Additionally, many times the address left with the HR department of your church or sending agency quickly becomes obsolete. When tax documents and notices are sent they are undeliverable. In the meantime the sending agency or church has been reporting the $50,000 a year pay on a 1099MISC to the IRS and because no return was filed and the notices the IRS has sent have been ignored, the IRS calculates what is owed using the highest possible calculations, then they add failure to file penalties, failure to withhold penalties, and then interest accruing every day. With all that, it doesn't take long for a missionary to have a $50,000 bill with the IRS and for a passport to be taken.

Don't let this happen to you. Make sure to file on time and not let the IRS calculate what you owe, rather use every legal tax break specific to your situation. Staying compliant with the IRS will ensure that you can continue serving overseas.